Previous Years
Take a look at where our Colour Rush events have taken place in previous years – and the massive amount they have raised for people living with life-limiting illnesses in South Devon – your friends, neighbours and loved ones!
Teignmouth turns multi-coloured for Rowcroft Hospice
In 2018 we saw 800 participants take part in Rowcroft's 5k Colour Rush along Teignmouth Beach whilst being showered in two tonnes of rainbow-coloured powder paint. The fundraising event pledged to raise an incredible £46,000 to help support local people with life-limiting illnesses across South Devon.
For many local people The Colour Rush isn't just about having fun; it's a chance to celebrate the life of a loved one and to raise much needed funds for the local hospice.
Kelly Evans, 34 from Newton Abbot said: "It was really good fun. The kids loved every single minute of it. We are running in memory of family today as Rowcroft recently cared for our Uncle Steve and for our Grandmother 6 years ago."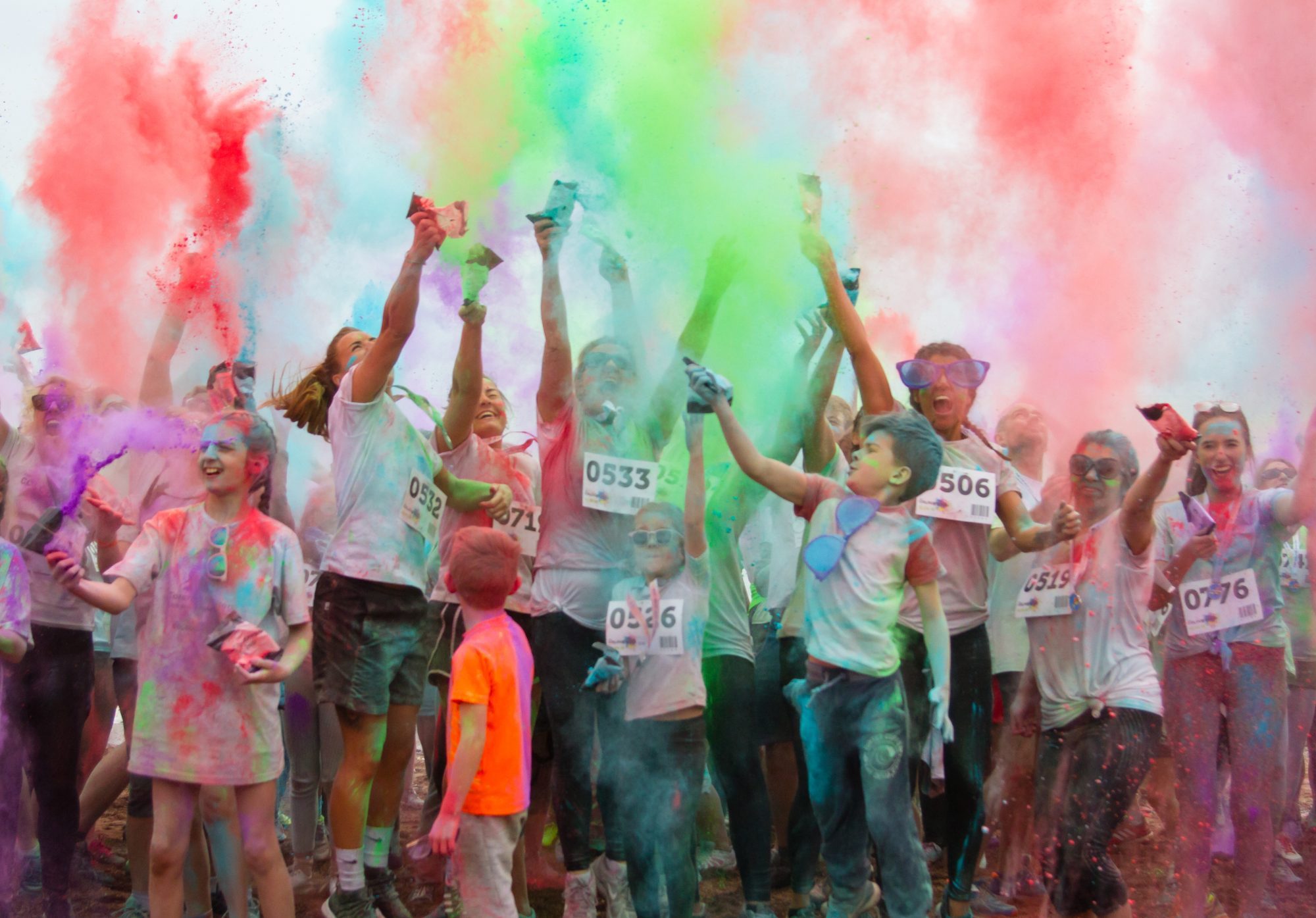 Teignmouth celebrated Rowcroft with a weekend of music and colour
In 2017 we brought a whole weekend of celebrations to Teignmouth, with our family fun day Sound Waves on Saturday 10 June followed by the epically colourful Colour Rush on Sunday 11 June. Together the events raised £56,710 to help fund care for the more than 300 people living with life-limiting illnesses in Teignmouth and its surrounding towns and villages.
Runners got colourful TWICE and raised thousands for Rowcroft in 2016
In summer 2016, two Colour Rush events hit South Devon! Our brand new Colour Rush Teignmouth took place on Saturday 7 May, with over 650 people pledging to raise more than £45,188 for the hospice. Then more than 700 people came together on Saturday 17 September in Paignton pledging to raise an incredible £67,546, taking the total from two events to more than £100,000!
In 2015 Colour Rushers raised a record-breaking amount!
In 2015 Paignton's pier, green and beaches turned multi-coloured on Saturday 12 September 2015 as 1400 people completed South Devon's original brightest 5k. Together participants raised a record breaking £86,180.87 for the hospice. A unique, one-off 'Colour Road Rush' also saw more than 500 people complete a 3k route along the then brand new South Devon Link Road, raising vital funds for Rowcroft and turning the new road multi-coloured!
We painted the beach at The Colour Rush 2014!
We saw 1500 people in Paignton go from white to bright on Saturday 13 September 2014 in aid of Rowcroft Hospice! Everyone had an amazing day and raised over £76,000; enough money to provide 24 hour care on our Inpatient Unit for 97 days.