Previous Years
We were so excited to bring The Rowcroft Sleep Walk back for 2019!
Take a look at where our Sleep Walk events have taken place in previous years – and the massive amount they have raised for people living with life-limiting illnesses in South Devon – your friends, neighbours and loved ones!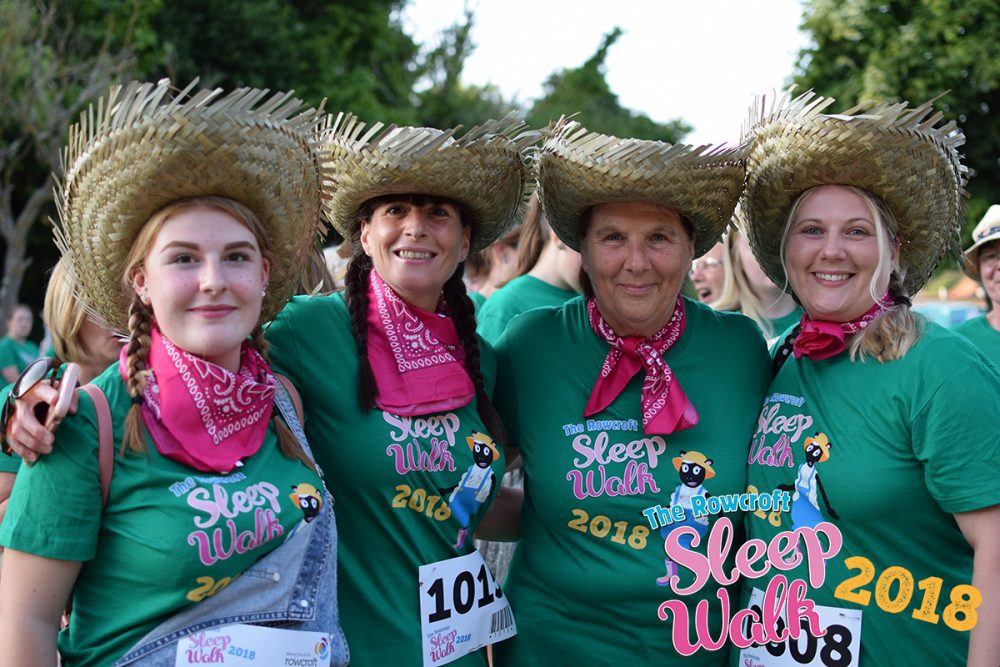 2018's Fun on the Farm, Sleep Walkers raised £101,705 for Rowcroft!
Rowcroft's Event Manager, Stewart Molyneux would like to say a huge thank you to all those who took part in The Rowcroft Sleep Walk as well as all those who supported the event by donating their time and expertise.
He said: "What an incredible night! The atmosphere was amazing all the way through and the ladies and girls who took part carried bundles of energy and enthusiasm with them every step of the way."
"We have also been so impressed with the level of fundraising this year, thank you for all of your hard work and support! Every pound raised in The Sleep Walk goes towards helping local people in need of Rowcroft's services. Thank you for helping us make every day the best day possible for thousands of people living with life-limiting illnesses across South Devon."  
"We would also like to say a massive thank you to all of our volunteers whose generous support helped the event run so smoothly. We genuinely aren't able to deliver our events without you and this year, you have surpassed yourselves. The energy, enthusiasm and dedication to Rowcroft was amazing and created a really special atmosphere on the night! Thank you!"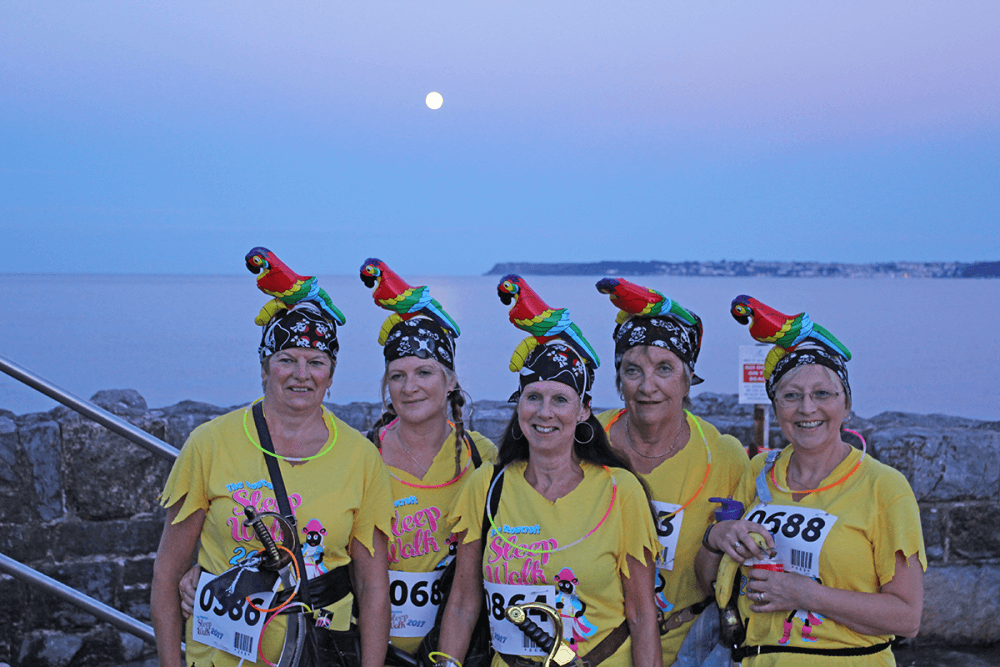 2017's swashbuckling Sleep Walkers raised £141,000 of loot
More than 1,400 ladies took part in the swashbuckling Rowcroft Sleep Walk 2017 raising £141,000 for local families.
Rowcroft's Events Manager, Daniel Robson, gave a special message of thanks to all those who gave up their time to support and take part in the 2017 event: "We are so grateful to all the amazing ladies who battled achey legs and tired feet to complete our five and ten mile routes in 2017, and to all the brilliant people who encouraged them with sponsorship, cheers and messages of support."
2016 Sleep Walkers partied their way to a Sleep Walk fundraising record!
Our fabulous 2016 Sleep Walkers donned leg warmers, shoulder pads and leggings for the 80s themed Sleep Walk party which raised an amazing £195,000 for Rowcroft taking the all-time Sleep Walk fundraising total to over £1,000,000!
Following the event Daniel Robson, Rowcroft's Events Manager, said: "Every year The Sleep Walk brings fun, laughter and colour to the streets of South Devon and 2016 was no exception. The ladies who took part went to such amazing efforts with their training, fundraising and 'totally awesome' 80s outfits we cannot thank them and our incredible volunteers enough for their fantastic and continuing support."
2015 Sleep Walkers raised an incredible £193,500 for Rowcroft
More than 2,000 ladies aged ten and over completed their choice of five or ten mile night walks on Saturday 11 July, raising an amazing £193,500 to help support people with life-limiting illnesses in South Devon, and their families, to make the most of every day they have together.
Rowcroft's Events Manager, Daniel Robson, said: "We are overwhelmed by the huge amount of support we have received from the local community in order to raise this incredible amount of money. We would like to say a massive thank you to all the amazing ladies who took part, our fantastic volunteers and also the many, many more people who have supported our participants by sponsoring them. Every penny raised will help us to make every day the best day possible for local families facing the most challenging days of their lives."
2014's Sleep Walk created a Brazillian buzz on the streets of Torbay!
A record number of ladies took to the streets to walk either five or ten miles on Saturday 26 July in aid of Rowcroft Hospice! Over 2000 carnival queens brightened the streets of Torbay in their Rio Carnival themed costumes and pledged to raise an amazing £167,000. But now that we've had all sponsorship in, we can finally announce that together an incredible £181,000 was raised this year! All of the money raised will go towards providing specialist care for people over the age of 18 living with life-limiting illnesses in South Devon.
2013's Sleep Walk was another great year for Barbara & Rowcroft
Over 1000 ladies raised sponsorship and walked on the evening of July 6 2013 raising a grand total of £123,000 to help provide specialist care to those with life-limiting illnesses.
Rowcroft's Community Team Manager, Jo Pope was delighted with the result: "I have worked for Rowcroft Hospice for over two years and in that time I have completed the walk and volunteered. My most memorable experience as a volunteer was rewarding the walkers with a well-earned cuppa after the walk; it was particularly humbling to then hear the ladies talk about their motivations for walking and raising money for Rowcroft."
2012 saw a record number of walkers for any Rowcroft nightwalk…2000!
Brand new venues and a really lovely route proved more popular than ever and walkers signed up in their hundreds to support Barbara The Sheep and Rowcroft Hospice. Over £200,000 was raised and over 200 volunteers supported this epic night and it ran very smoothly, with a great disco theme!  A huge well done and thank you to all those involved, here's to another brilliant year!
2011 saw the first ever Sleep Walk and what a huge success it was!
    1800 ladies signed up in just six weeks to join Barbara The Sheep on this fantastic new night walk.
    Over 300 on the waiting list, who were all desperate to join in!
    Top national drinks brand Shloer were event sponsors; making sure the Sleep Walk was a sparkling affair!
    Two unique venues made it a truly special night; the beautiful Occombe Farm and the atmospheric Kents Cavern.
    A choice of five or ten mile routes ensured everyone could achieve their goal.
    Over 1000 Barbara The Sheep ears were sold and donned on the night!
    Over £2000 was raised in Sleep Walk merchandise alone.
    Over 3000 cups of tea/ coffee were served on the night, supplemented by sweets, treats and of course, all important butties at the end!
    55 porta-loos were placed along the route!