What's it all about?
More than 380 cyclists donned their helmets whilst braving Storm Callum and put power to the pedals in support of Rowcroft Hospice on Sunday 14 October. We hope the hundreds of participants will have raised in excess of £35,000 to help fund Rowcroft's vital services.
Whether you chose to take on the challenge of the Haytor Hill Climb, enjoyed a leisurely Sunday afternoon on the Classic Course, volunteered to make this all happen, or sponsored a rider in support we'd like yo say a huge thank you!
Your amazing fundraising efforts will help Rowcroft provide care and support to patients and families living with life limiting illnesses across South Devon. So, again THANK YOU!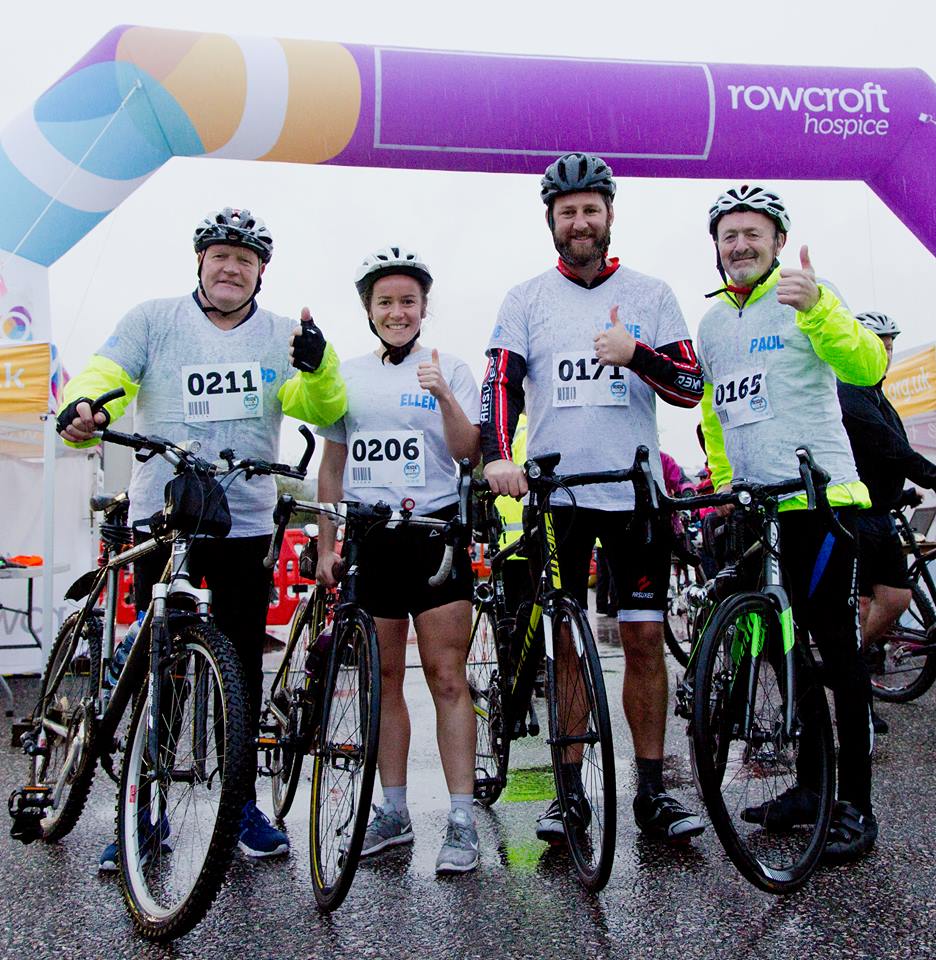 To find out more about this fantastic event, including comments from those who took part, visit our latest news article.
If you took part and have yet to pay your sponsorship, there are many different ways you can do this. These are:
By cheque – please make cheques payable to 'Rowcroft Hospice' and send them with your sponsorship form(s) to:
Freepost RTKK-UJRJ-XBKS
Ride for Rowcroft
Rowcroft Hospice
Avenue Road
Torquay
TQ2 5LS
By card – call 01803 217632 to pay over the phone
Online – visit www.rowcrofthospice.org.uk/sponsorship
By bank transfer – pay you sponsorship in using these details:
Name: Rowcroft House Foundation Ltd.
Account no: 0597 7703
Sort code: 55-70-01
Reference: Your participant number
Whichever way you to choose to pay in your sponsorship, please freepost us your sponsorship forms so we can claim the Gift Aid back too – this will increase the total amount you raise by a further 25%.
For more information on sponsorship, please call 01803 217641 or email [email protected].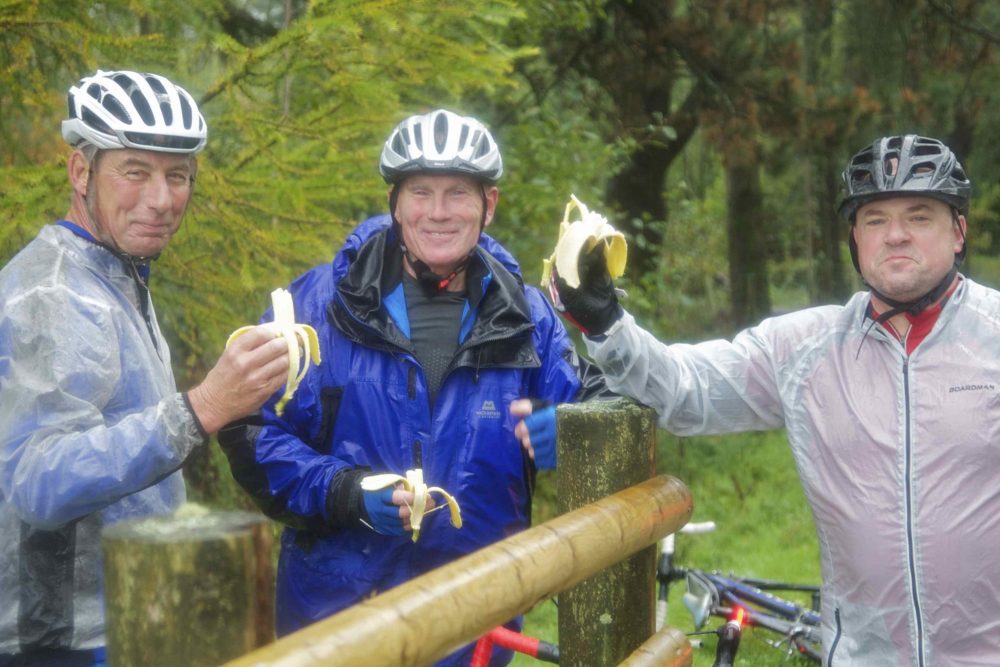 Here are the courses the riders endured
This route is ideal for novice/intermediate cyclists looking to complete their first challenge or beat a personal best. The Classic Route is an anticlockwise circuit between Newton Abbot and Bovey Tracey, beginning at the Newton Abbot Racecourse and travelling via Kingsteignton, Chudleigh Knighton, Bovey Tracey, before returning to Newton Abbott Racecourse via The Stover Trail cycle path.
The route begins at the racecourse on Newton Road, with the participants turning right out of the venue and following the Newton Road, pass the clay pitts and finally reaching Bovey Tracy. After taking on much-needed fluid and nutrition, participants will re-join the carriageway reaching the beautiful Stover Trail and will cross the bridge back onto the cycle path, which leads to Jetty Marsh Roundabout heading back to Newton Abbot Racecourse. Here you can finally stretch your legs and grab a well-earned drink and bacon bap!
The Haytor Hill Climb is a new route for 2018, a 32km up-hill challenge! This point to point route extension runs from Station Road Roundabout in Bovey Tracey, up to the visitor car park at the iconic Haytor, before returning down the B3387 to Bovey Tracey and back on to the remainder of the Classic Course. The car park at the visitor centre will offer toilet facilities and a much-needed water point following the gruelling climb. This course is much more of a challenge and is ideal for more experienced road cyclists.
Following the water point, participants re-join the B3387 to Bovey Tracey, where they will turn onto Newton Road and completing the original route back to the Newton Abbot Race Course and the ever-popular drinks and bacon baps!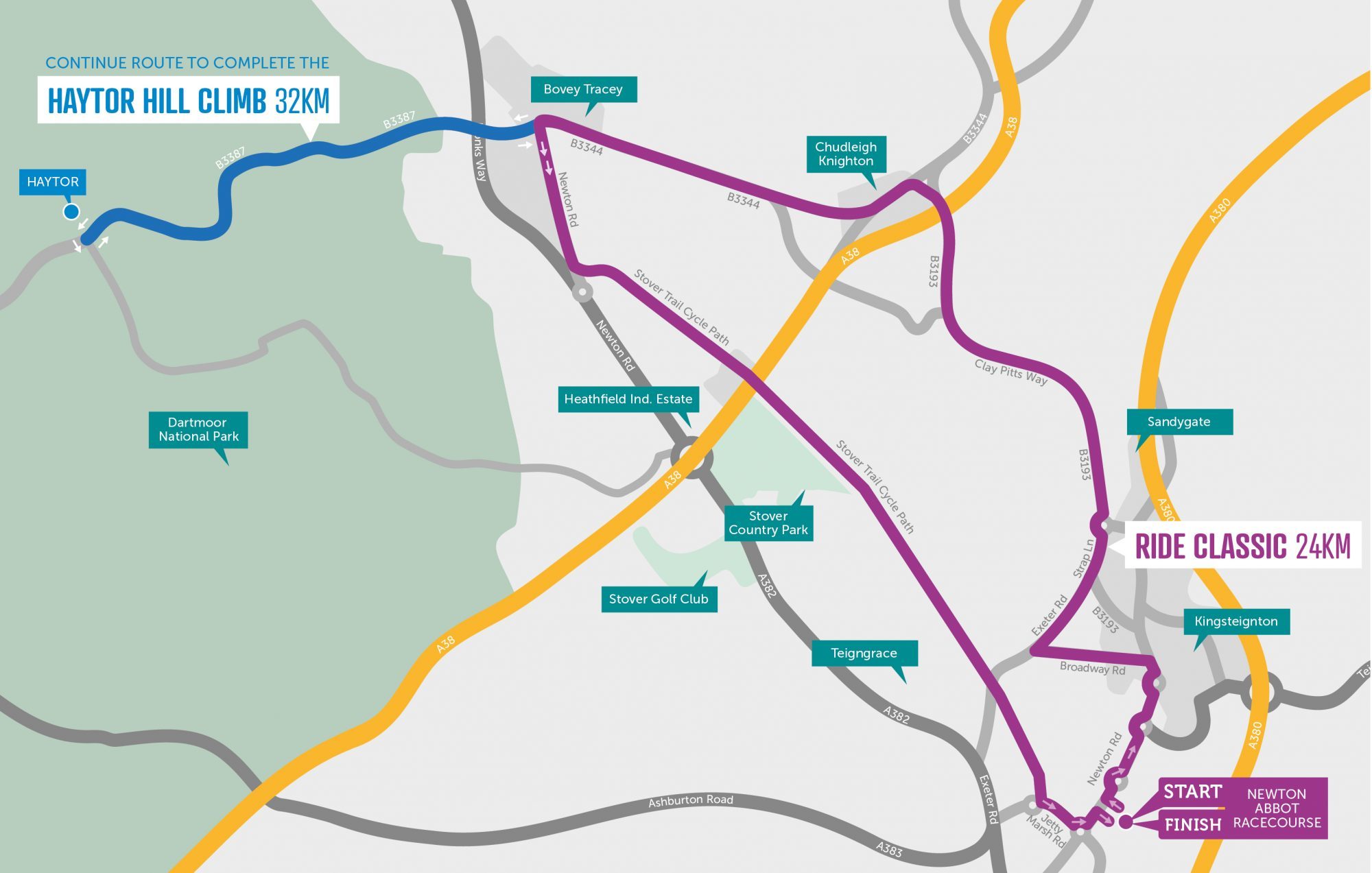 Please view the map in a downloadable format in 'Downloads & Resources' below.
Find Out About Ride for Rowcroft