What's it all about?
Gear up and sign up for Rowcroft's fundraising cycle challenge, Ride for Rowcroft, taking place at Newton Abbot Racecourse on Sunday 14 October 2018!
Last year Ride for Rowcroft was a massive success, with over 450 people saddling up to complete the 24km route. Since the launch in 2016, the event has raised a staggering £100,000 to help local families living with life-limiting illnesses share precious time together.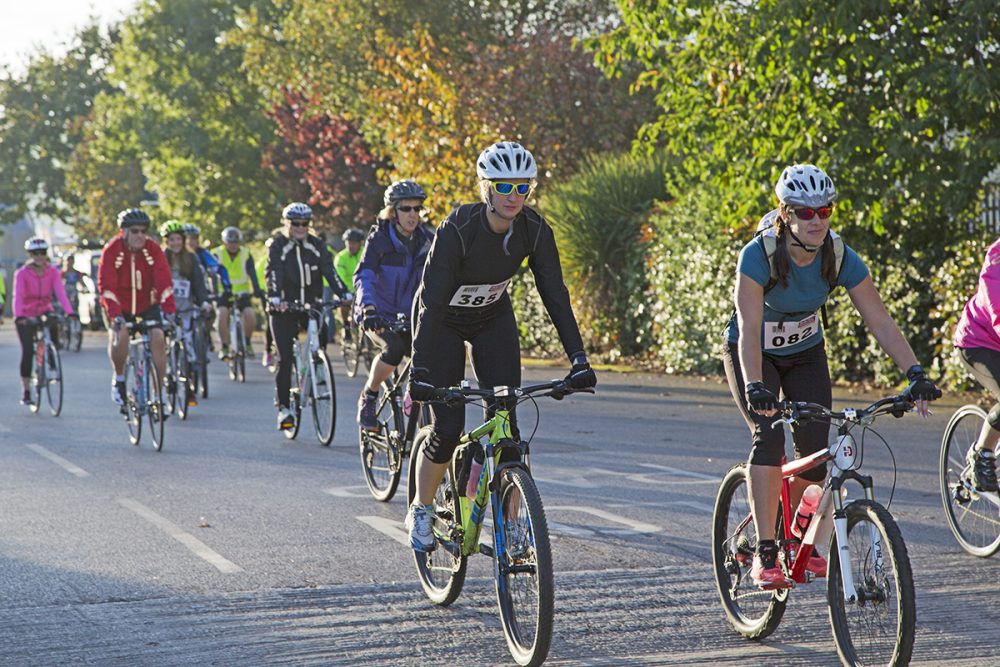 Stepping up a gear!
Saddle up, and take in the stunning views through Chudleigh Knighton, Bovey Tracey and Teign Valley.
This year's course will see TWO cycle options; the return of the 24km route, now known as 'The Classic'–  and based on participant feedback from 2017, we have introduced a more gruelling 32km course; 'The Haytor Hill Climb'.
Sign up today, because places will fill fast!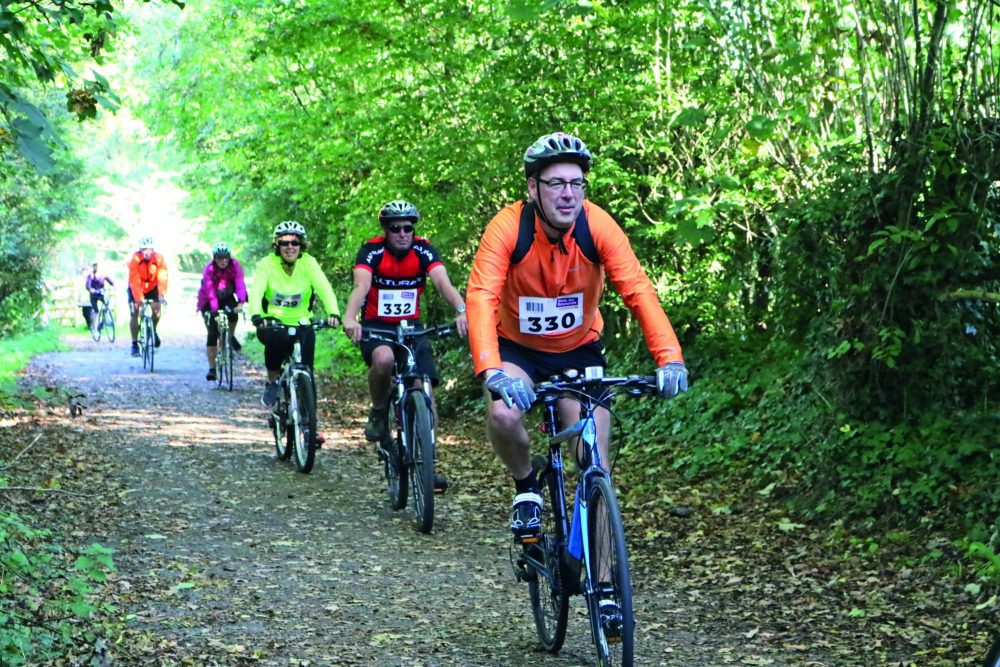 What route will you choose?
This route is ideal for novice/intermediate cyclists looking to complete their first challenge or beat a personal best. The Classic Route is an anticlockwise circuit between Newton Abbot and Bovey Tracey, beginning at the Newton Abbot Racecourse and travelling via Kingsteignton, Chudleigh Knighton, Bovey Tracey, before returning to Newton Abbott Racecourse via The Stover Trail cycle path.
The route begins at the racecourse on Newton Road, with the participants turning right out of the venue and following the Newton Road, pass the clay pitts and finally reaching Bovey Tracy. After taking on much-needed fluid and nutrition, participants will re-join the carriageway reaching the beautiful Stover Trail and will cross the bridge back onto the cycle path, which leads to Jetty Marsh Roundabout heading back to Newton Abbot Racecourse. Here you can finally stretch your legs and grab a well-earned drink and bacon bap!
The Haytor Hill Climb is a new route for 2018, a 32km up-hill challenge! This point to point route extension runs from Station Road Roundabout in Bovey Tracey, up to the visitor car park at the iconic Haytor, before returning down the B3387 to Bovey Tracey and back on to the remainder of the Classic Course. The car park at the visitor centre will offer toilet facilities and a much-needed water point following the gruelling climb. This course is much more of a challenge and is ideal for more experienced road cyclists.
Following the water point, participants re-join the B3387 to Bovey Tracey, where they will turn onto Newton Road and completing the original route back to the Newton Abbot Race Course and the ever-popular drinks and bacon baps!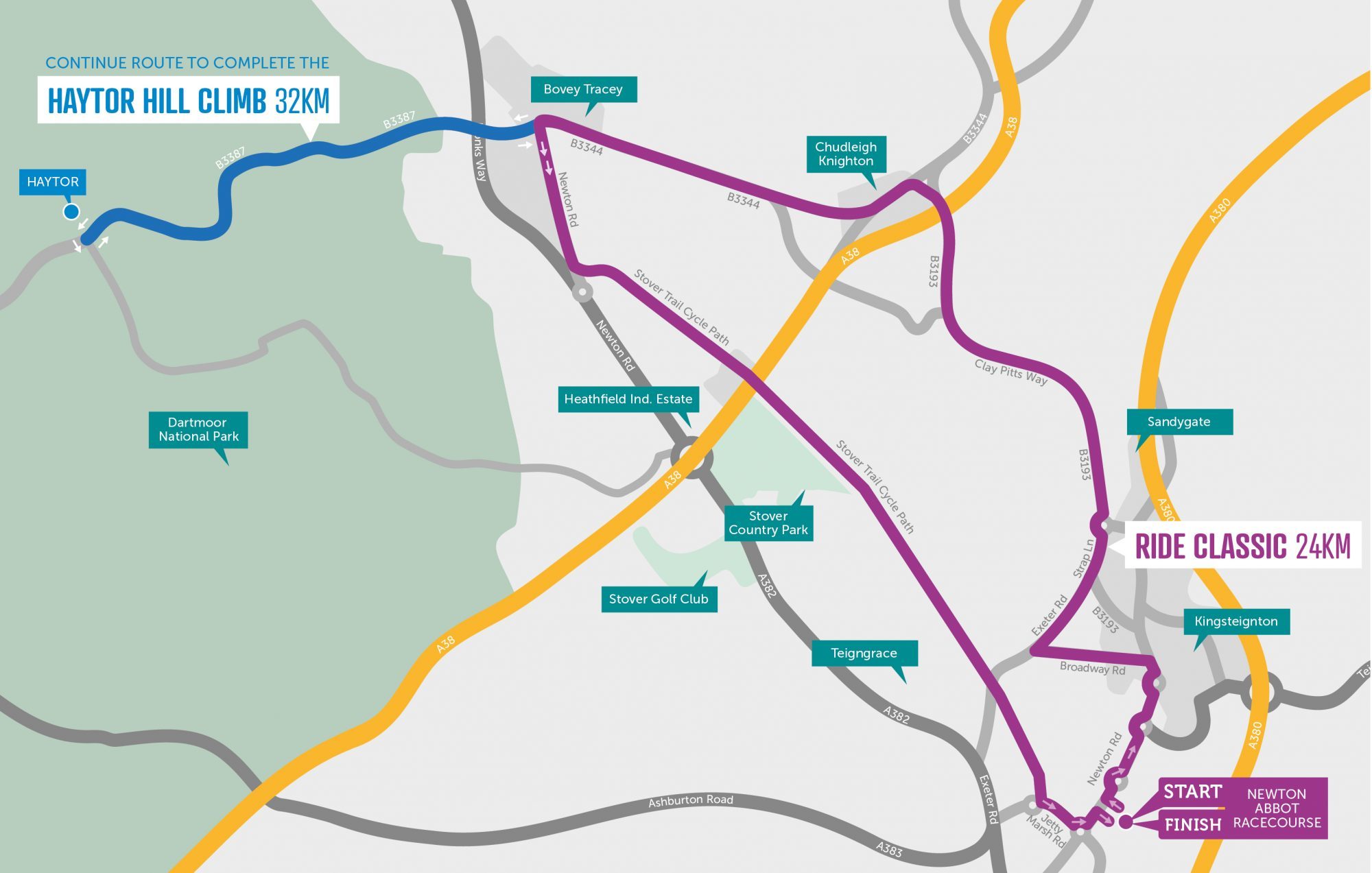 Please view the map in a downloadable format in 'Downloads & Resources' below.
Find Out About Ride for Rowcroft