7th October 2018

-

15th October 2018
About this challenge
9 Days duration (5 active days)
Option A:
Registration Fee – £299 + minimum Sponsorship of £2700 plus Airport Tax and Fuel Surcharge Contribution of £250.
(50% of the minimum sponsorship target will cover the costs of the trip, the remaining 50% will be donated to Rowcroft Hospice)
Option B:
Registration Fee – £299 + Self Funding £1350 plus Airport Tax and Fuel Surcharge Contribution of £250.
Organiser: Global Adventure Challenges
The Great Wall of China has been voted one of the New Seven Wonders of the World. Stretching for 6,000km, it zig-zags its way across China, snaking across mountains and through valleys.
Our Great Wall of China Trek is a fantastic charity challenge hiking for five days along this magnificent man-made structure. The challenge takes us over watch towers and mountains, through historic battlement stations that are well off the tourist trail.
You'll also 'lend a hand' repairing a section of the Wall that is currently being reconstructed. You will place a personalised brick in this newly restored section, ensuring our own place in the Great Wall of China! Memories to cherish for a lifetime.
For more information on how you can challenge yourself and raise vital funds for Rowcroft Hospice, contact our Community Fundraising Manager on fundraising@rowcrofthospice.org.uk or 01803 210835.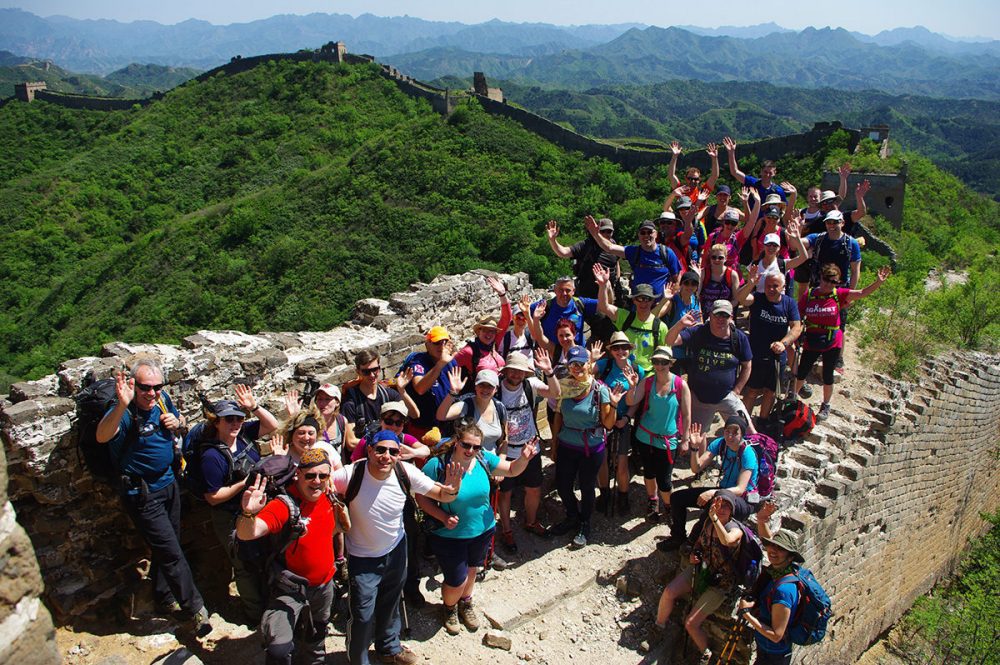 Day 1
Depart the UK on an overnight flight to Beijing.
Day 2
Arrive in Beijing, meet local guides and transfer to hotel. Rest of the day free to acclimatise and refresh after flight.
Day 3
Warm up trek from Tiapingzhai to Huangyaguan. Trekking time 3 hours.
Day 4
Trek the remote and stunning Gubeikou section of the Great Wall covering 27 watch towers! Trekking time 7-8 hours.
Day 5
Trek from Jinshanling to Simatai – another remote section, far from tourist trail. Trekking time 8-9 hours.
Day 6
Trek Mutianyu section of the Great Wall and conquer the 1,000 steps that make up the 'Heavenly Ladder'. Trekking time 6-7 hours.
Day 7
Morning is spent in Badaling section of the Wall, repairing a watch tower. After lunch, transfer to Juyongguan to continue trekking. Trekking time 7 hours.
Day 8
Free day in Beijing to explore the sights and sounds of this amazing capital city.
Day 9
Transfer to Beijing for fight back to UK, arriving same day.